Cheri and I are celebrating our 27th anniversary this weekend.
It's an extended celebration: The official date is 12 July. This year (2013) that falls on a Friday, and in any case we're counting the entire weekend — and beyond — as our celebration. The festivities end when we say they end, not before.
This year it was a low-key affair. The only "public" component was our attendance at the monthly devotional program at the Knoxville Baha'i Center.
But we're really, really good at celebrating by ourselves. On Friday, the official day, we went to Island Home park, sat together on a bench, and talked. (Call us party animals, but we do like to double down on a good time.) Here's a cool photo of our view: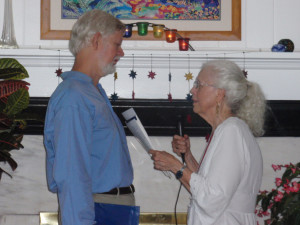 We also celebrated by reminiscing about our big shindig two years ago, when we renewed our vows (10 July 2011). The ceremony, held at our house, was attended by 80 neighbors and close friends. The air conditioner went out at the very beginning. We opened every window and turned on our whole-house fan, but it still was hot. Yet everyone stayed!
That occasion was the celebration of our silver anniversary. We've never before shared photos or video from that event, because this website didn't, at that time, exist.
So let's make up for lost time. Below is a snippet from one of the musical selections — the song "Don't Know Much", which about sums it up for us:
If you want to hear the entire song, skip below to the live performace by Aaron Neville (whom I obviously resemble) and Linda Ronstadt. Meanwhile, here are some never-before-shared photos from the Silver Anniversary celebration:

And now, the Neville/Ronstadt video. Doesn't this music send delicious shivers down your spine!

If you like this content, please sign up for more using the "Notes from Stonehaven" newsletter link at the top of the right-hand sidebar. And please leave a comment using the link below:
Google+ Comments