This weekend (29 June 2013) is the birthday of my wife, Cheri. Happy Birthday, sweetheart!
The letters in her full name — Cheri Victoria Wallace Matthews — reveal a lot about her. They rearrange to spell: "Worthwhile acclaim reactivates" and "Well! Charisma to a creative witch". (Since Cheri thinks of witchery as symbolic of feminine power and womanly magic, that's a good thing.) There's also "Ha ha! Well! Star comic, creative wit" and "Whatever catholic miracle waits". (She being a Baha'i, I assume this is lower-case "catholic", in its proper sense of "universal".)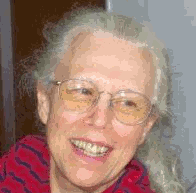 Be that as it may, this amazing woman is the love of my life. Her birthday is always a Big Deal to me, and this one even more than usual. She's 70 years old, amazingly deep and resilient, full of life and sparkle.
This year is a special milestone for me, too, though I hadn't done the math till this morning. It was exactly 32 years ago that Cheri and I met. And I just turned 64. Meaning it was exactly half my lifetime ago that I first was dazzled by this life-changing lady. Fifty percent of my years. From this point forward, I'll have known her for more than half my life; but that halfway point strikes me as worth celebrating.
Dazzled or not, it was at least five years later before we figured out that we had a thing for one another. That's another story, one I'll tell another time, God and Cheri willing.
Okay, I've dated this post 29 June, because that's Cheri's official birthday. But I'm actually writing it on Sunday, 30 June — which Cheri insists is still her birthday because it's part of her "birthday weekend". If she can fudge, so can I!
Cheri's son, Shannon, is here this weekend, visiting from Los Angeles. (Having just been accepted at the University of California at Berkeley, he's getting set to go to school there.) Shannon and I, along with Cheri and her 91-year-old mom, Winnie Anderson, celebrated with a special dinner at Chesapeake's seafood restaurant in downtown Knoxville.
Cheri's gift from me — she asked for it particularly — was a copy of the heartwarming book "Prison Poems" by Mahvash Sabet, one of the Baha'i leaders unjustly imprisoned in Iran for her religious faith. This book, adapted to English by Bahiyyih Nakhjavani and published by George Ronald, is a classic. Highly recommended.
Today the four of us (Cheri, Shannon, Winnie, and I) toured the Knoxville Zoo. The zoo is literally right behind the house where Cheri and I live — it would literally be our backyard, if not for the alley separating us. But we've rarely visited it enough to do the whole deal. Today we did, and got some great photos. (See below.)
Feel free to leave Cheri a birthday greeting in the comments section below. Belated or not, they'll make her happy — and you know what they say about worthwhile acclaim.
Google+ Comments